This is a pack of around 500 faces. It is available for download on the Steam Workshop or as a zip file.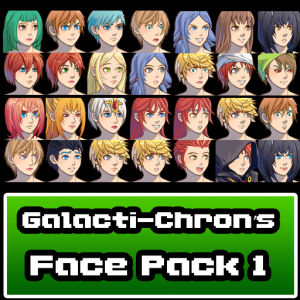 In our game Star-Shift, there is a lot of planets to go to,
which means lots of NPC's, and hence lots of faces.
I have some faces which I use for the main characters which are
better than these faces…These faces are randomly generated.
But it is a nice pack of faces which are not mug-shot like
the standard RPG Maker faces. Enjoy!
Website:
http://psychronic.com
Facebook:
https://www.facebook.com/psychronicgames/
Youtube:
https://www.youtube.com/channel/UC4pkhNirMTaVLy0gEaPulXQ
Hashtags:
#StarShift #RPG #JRPG #RPGMaker #Psychronic #MV