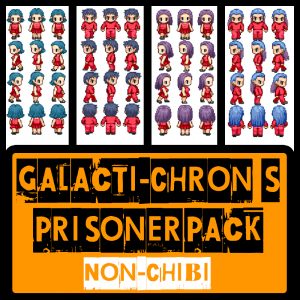 This contains a pack of 75 Male and 75 female prisoners in jumpsuits. I can't stand the Chibi characters and thought the community needed a massive infusion of the non-chibi style. They are randomly generated but don't look too shabby for being random. We made this character set for our game in development Star Shift. These prisoners are used for when you go to a prison planet with your ship.
Below you will see a gallery of each of the characters in the pack. If you would like all the characters in one download, here's a link to the whole pack:
Galacti-Chron Prisoner Pack (non-chibi) DOWNLOAD
Terms of Use:
Use these for whatever the hell you want, even commercial use.
The original CC-3 license for the raw parts  for the hair, and clothing bits though requires us to credit MACK and the looseleaf character generator. Thank You MACK.